Main Content
Kama'aina Rates
Call for 20% Off ~ See Specials Page
Domestic Trans-Pacific Travel to Hawaii Re-opens
With Pre-Travel Testing
Inter-Island Travel Remains Under
the 14-Day Quarantine
Hawaii Volcanoes National Park is Open
on the Big Island of Hawaii
COVID-19
Until October 15, the mandatory 14-day quarantine for all out-of-state travelers remains in effect. Beginning Oct. 15, a pre-travel testing option will allow travelers an alternative to the 14-day quarantine.
The State of Hawaiʻi has established a multi-layered testing and screening process to protect the health and safety of everyone traveling to the Hawaiian Islands. All incoming travelers – residents and visitors - are required to have their temperatures checked and complete a health and travel questionnaire using the Safe Travels digital system before they can leave the airport.
Our Boutique B&B is also closed to Inter-island travelers due to the 14 day quarantine which is on-going until at least October 14, 2020.
Currently, for the month of September thru October 14, we are only hosting guests from the Big Island, who are not under quarantine restrictions.
Please see the About Page for the modified COVID-19 Cancellation Policy
Welcome to the Volcano Rainforest Retreat
Private Cottages on the Big Island of Hawaii, Adjacent to Hawaii Volcanoes National Park
A Boutique Bed & Breakfast
Volcano Rainforest Retreat Bed & Breakfast offers a casually elegant Big Island lodging getaway with four architecturally distinctive private guest cottages. Savor the contemporary appeal and charm of rich wood interiors with floor to ceiling windows that look out into the heart of the rain forest. Relax in a private hot tub only steps from your door. A few minutes drive to Volcano Village offers a variety of charming restaurants, quaint cafes, eclectic art galleries, farmer's market and historic homes. The B&B, nearby village and national park is a must-stay destination.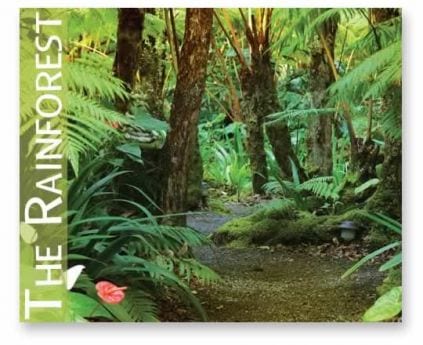 A Native Hawaiian Rain Forest
The bed & breakfast retreat is nestled under a lush canopy of giant tree ferns and lofty Ohia trees in a native Hawaiian rain forest, 3800 feet above the sea, on the slopes of Kilauea Volcano. Each retreat accommodation is set into the misty mossy surroundings with deep respect for its wild natural beauty, and emerges as a living part of the primal landscape. The magical rain forest setting offers world travelers an intimate getaway, a peaceful retreat and an active adventure in a place of great natural beauty.
Kilauea Volcano
Hawaii Volcanoes National Park is open.
Currently, the eruption has ceased. There is no active lava viewing anywhere on the Big Island. While the summit is still closed for safety, trails have been reopened. Visitors can safely view the recent 1700ft collapse of Kilauea Caldera.
A few miles from Volcano Rainforest Retreat B&B, hike, bike or drive the magnificent landscape at Hawaii Volcanoes National Park, the Hawaiian Islands' most visited natural attraction. Explore primal rain forest, lava tubes, desert trails, ancient petroglyphs, old lava flows and new land where the lava entered the sea from one of the most active volcanoes on earth. Experience 'aloha aina', love of the land, and the enduring spirit of the Hawaiian people and their culture.
---
---
Reviews from millions of Tripadvisor travelers place this Hotel
in the top 10% worldwide.
Tripadvisor Travelers' Choice
2020
Volcano Rainforest Retreat

Amenities
Private handcrafted cottages with skylights
Forest views and covered decks
Hot Tubs
Romantic gas fireplaces
Breakfast in the privacy of your cottage
Kitchens and kitchenettes
High-Speed Wireless Internet
* dense, wet conditions in the rain forest can affect speed
(Please use your unlimited cellular data/hotspot for faster connection and to stream videos & movies)
DVD/CD selection
Guest parking and private carports
Volcano Village restaurants and galleries