Main Content
Kilauea Volcano Active Again!
On September 30, 2021 Lava activity returned to the Halema'uma'u Summit Crater
See the lava lake and red glow in the park after dark!
Hawaii Volcanoes National Park has opened roads and trails to the summit with previously inaccessible views of
the 2018 Kilauea Caldera Collapse
and the current 2021 Kilauea Summit Lava Lake
Book now for spring and summer dates!
Call or Book Direct Online
Kama'aina Rates
Call for 10% Off ~ See Specials Page
HAWAII TRAVEL
Unvaccinated Mainland Travelers
Need to use Pre-Travel Testing Partners & Programs to be Exempt From the 10-day Quarantine
Vaccinated Mainland Travelers
Hawaii has eliminated its pre-travel testing/quarantine requirements for domestic travelers who have proof of being fully vaccinated in the United States.
We request that guests at Volcano Rainforest Retreat be vaccinated and have the booster shot to be protected as much as possible from all the variants especially the Omicron variant. Additionally, we are practicing masking and 6' distancing for everyoneʻs safety. This is our preference for all guests who have made reservations and those planning to do so in the future.
Our private cottages and the outdoor activities in the Park nearby, also contribute to everyone's wellbeing. Letʻs all be safe and stay well!
No restrictions for inter-island travel between the Hawaiian Islands
Update on Rental Car Shortage
Hawaii, like many vacation destinations, is currently experiencing a rental car shortage.
We suggest Turo as an alternative to the main car rental companies. Hawaii Tourism Authority (HTA) advises visitors to plan ahead and book their car rental first before making the rest of their travel arrangements. For additional resources, HTA has just posted a list of alternate transportation options. You can find the list on HTA's website:
www.hawaiitourismauthority.org/covid-19-updates/ground-transportation/
Big Island Residents
The Volcano Rainforest Retreat Welcomes Local Residents for Staycations
Safe Travels Program Welcomes Back International Travelers
International Travelers, NON-U.S. citizens traveling directly to Hawaii from an international destination must present BOTH vaccination records AND a negative COVID-19 test results (NAAT or antigen) within 3 days of boarding a flight to the United States. Please check Hawaii Safe Travel's Website.
U.S. Citizens flying directly to Hawaii from an international destination have two options:
Provide proof of vaccination OR
Provide proof of negative COVID-19 test results within one day of boarding flight to U.S.
Non-Direct International Travel to Hawaii-Check Hawaii Safe Travels Website
E Komo Mai - Welcome to the Island
Our boutique B&B celebrates travelers with a passion for adventure arriving from the mainland. The enchanted rainforest is calling you to be our guest and enjoy our Hawaiian lifestyle.
Please see the About Page for the Reinstated Standard Cancellation Policy 4/26/21
Welcome to the Volcano Rainforest Retreat
Private Cottages on the Big Island of Hawaii, Adjacent to Hawaii Volcanoes National Park
A Boutique Bed & Breakfast
Volcano Rainforest Retreat Bed & Breakfast offers a casually elegant Big Island lodging getaway with four architecturally distinctive private guest cottages. Savor the contemporary appeal and charm of rich wood interiors with floor to ceiling windows that look out into the heart of the rain forest. Relax in a private hot tub only steps from your door. A few minutes drive to Volcano Village offers a variety of charming restaurants, quaint cafes, eclectic art galleries, farmer's market and historic homes. The B&B, nearby village and national park is a must-stay destination.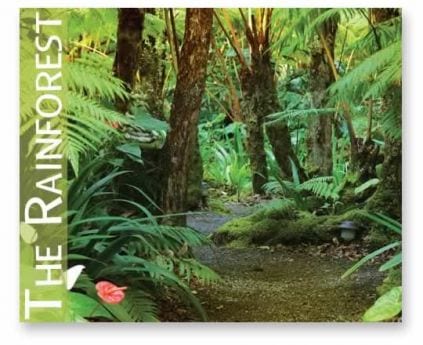 A Native Hawaiian Rain Forest
The bed & breakfast retreat is nestled under a lush canopy of giant tree ferns and lofty Ohia trees in a native Hawaiian rain forest, 3800 feet above the sea, on the slopes of Kilauea Volcano. Each retreat accommodation is set into the misty mossy surroundings with deep respect for its wild natural beauty, and emerges as a living part of the primal landscape. The magical rain forest setting offers world travelers an intimate getaway, a peaceful retreat and an active adventure in a place of great natural beauty.
Kilauea Volcano - Scientist reported that the lava lake eruption in Halema'uma'u at the summit of Kilauea Volcano has erupted again on September 30th.
Hike along the crater's edge and view the remarkable geological changes at the summit of Kilauea Volcano in Hawaii Volcanoes National Park, ten minutes from Volcano Rainforest Retreat B&B. Witness the 2018 1600ft collapse of Kilauea Caldera.  The trails in the park are open and visitors can safely walk along the crater rim. A few miles from Volcano Rainforest Retreat B&B, hike, bike or drive the magnificent landscape at Hawaii Volcanoes National Park, the Hawaiian Islands' most visited natural attraction. Explore primal rain forest, lava tubes, desert trails, ancient petroglyphs, old lava flows and new land where the lava once entered the sea from one of the most active volcanoes on earth. Experience 'aloha aina', love of the land, and the enduring spirit of the Hawaiian people and their culture.
---
---
Reviews from millions of Tripadvisor travelers place this Hotel
in the top 10% worldwide.
Tripadvisor Travelers' Choice
2021
Volcano Rainforest Retreat

Amenities
Private handcrafted cottages with skylights
Forest views and covered decks
Hot Tubs
Romantic gas fireplaces
Breakfast in the privacy of your cottage
Kitchens and kitchenettes
High-Speed Wireless Internet
* dense, wet conditions in the rain forest can affect speed
(Please use your unlimited cellular data/hotspot for faster connection and to stream videos & movies)
DVD/CD selection
Guest parking and private carports
Volcano Village restaurants and galleries