Volcano Rainforest Retreat B&B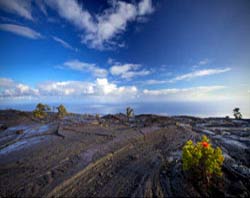 Hawaii Volcanoes National Park
Just minutes from our Volcano Bed and Breakfast lies Hawaii Volcanoes National Park, a United Nations World Heritage Site and International Biosphere Reserve. Hike, bike or drive along the crater rim of Kilauea Caldera, home of Pele, Hawaiian Goddess of Fire. Witness craters, steam vents, sea arches, petroglyphs, desert and rainforest trails.
Discover tree molds, native birds and a forest of old Koa and Ohia trees at Kipuka Puaulu, an island of old lava and vegetation surrounded by more recent lava flows.Travel through stretches of new Koa forests to the trailhead for Mauna Loa summit. Chain of Craters Road winds down to the coast where vast systems of lava tubes which have occasionally carried active lava flows into the sea, creating the newest land on earth. Lava viewing area sites change, stop or stall at times, due to the nature of the constantly changing landscape.  Walk on the newly formed Pohoiki black sand beach where lava recently flowed in 2018.
Volcano Village
Minutes from Volcano Rainforest Retreat B&B is rural Volcano Village with its variety of family owned restaurants, quaint cafes, eclectic art galleries and farmers market. Relish in the charm of old Hawaii at Kilauea Lodge and Restaurant. Explore hidden back roads and discover an eclectic historic mix of ranches, country estates and traditional Japanese homes. For travelers' convenience, village amenities also include two country stores, gas stations, laundromat and post office.
Big Island Volcano Art & Crafts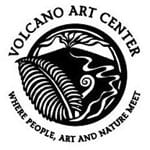 Volcano Art Center (VAC) – Where People, Art and Nature Meet
VAC Gallery in Hawaii Volcanoes National Park
The gallery has a collection of fine arts and crafts, available for purchase and displayed in the historic 1877 Volcano House near the edge of Kilauea Caldera. Experience hula performances at the Gallery's hula platform. These hula and Hawaiian music series have garnered the prestigious Kihili Award. (808) 967-7565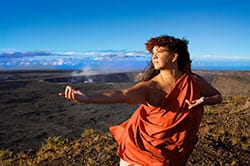 Volcano Art Center in Volcano Village
The VAC administration facility offers art classes and performance events, as well as a free nature walk: one hour guided tour on an easy 1/2 mile loop trail through an old-growth Native Hawaiian rain forest, Mondays at 9:30a.m. Open daily for self-guided walks. Great mix of art and nature.
www.volcanoartcenter.org – (808) 967-8222
"Hula is the language of the heart, therefore the heartbeat of the Hawaiian people."
Volcano Artist Hui
Reserve Thanksgiving weekend for Volcano's annual premier art tour. The Volcano Artist Hui is an open tour of artist's private studios, exhibits and artwork for sale. Enjoy meeting local artists directly!
www.volcanovillageartistshui.com
Volcano Garden Arts
Visit a farmhouse turned gallery with an eclectic array of fresh, fun collectibles to works of significant impact. Enjoy additional artistic touches and exhibits in the lovely gardens or bistro café.
www.volcanogardenarts.com – (808) 985-8979
Big Island Day Trips From Volcano Rainforest Retreat B&B
Puna/Kalapana
Experience old Hawaii along a tropical scenic coastal road. Spectacular ocean views are entwined with papaya farms, black sand beaches, sea turtles, lava flows fields of newly created land. A one-hour drive each way.
www.lavalandhawaii.com
www.lavaocean.com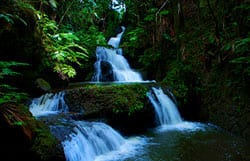 Hilo and Hamakua Coast, Gardens & Farms
Explore historic Hilo town and soak in local flavors at the farmers market, museums, Japanese gardens, Banyan Tree Drive, boat harbor, restaurants and shops along the picturesque bay front. Discover the lush, tropical Hamakua Coast replete with botanical gardens, tea and mushroom farms, stunning coastal views, scenic drives, breathtaking gulches and waterfalls.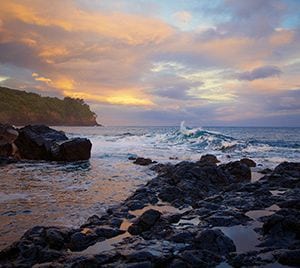 Hawaii Tropical Botanical Gardens:
www.htbg.com
Akaka Falls State Park:
www.hawaiistateparks.org
Onomea Tea Farm:
www.onotea.com
Hamakua Mushrooms:
www.hamakuamushrooms.com
Mauna Kea Observatories
Star gaze at the Onizuka Center for International Astronomy Visitor Information Station located at 9,000 feet on Mauna Kea. Travel to the summit for sunset and witness celestial skies and amazing exteriors of an international array of observatories, including the world famous Keck Observatory. Please read health guidelines for visiting Mauna Kea summit, 13,803 feet above sea level!
(Currently the road to Mauna Kea is temporarily closed)
Onizuka Center: www.ifa.hawaii.edu
Mauna Kea Summit Adventures:
Visit the summit with a professional guide, provides transportation, Arctic parkas, hearty, gourmet hot beverages and food. www.maunakea.com
Imiloa Astronomy Center of Hawaii
Explore connections between Hawaiian culture and the science of astronomy at Imiloa Astronomy Center at the UH Hilo Science and Technology Park. Don't miss the state of the art planetarium and show "Mauna Kea Between Earth and Sky". Tuesday through Sunday 1:00pm. www.imiloahawaii.org
Ka'u
Travel through rural, sparsely settled pastures, macadamia nut orchards, ranches and forested reserves. Visit Wood Valley with its hidden Tibetan temple and Punalulu Black Sand Beach where endangered Hawksbill sea turtles sun along the shore. Wander through Naalehu, home of Punaluu Bakery and treat yourself to their famous Portuguese sweet bread. Venture down South Point Road and experience Hawaii Island's Green Sand Beach, the southernmost point in the United States. www.gohawaii.com
South Kona
Pu'uhonua O Honaunau National Historical Park is a restored historic Hawaiian Village and sacred 'Place of Refuge". "The Pu'uhonua protected defeated warriors, as well as civilians during the time of battle. No harm could come to those who reached the boundaries of the place of refuge. www.nps.gov/puho
Things To Do in Volcano Area
Hawaii's Volcano Rainforest Retreat B&B and surrounding Volcano area are destinations in which to relax as well as be active, a place to be awed and slow down, to get in touch with oneself beyond the often busy pace of daily life. Surreal and serene, it is empowering, enduring and ever-changing. The harmony of man and nature attracts aware and sensitive individuals whose values show concern for the earth and its remaining places of great natural beauty.
Volcano's distinctive mix of artists, scientists, and entrepreneurs blends almost imperceptibly into the native forest landscape. Many offer exciting customized tours including photography, bird-watching, local golfing, cave spelunking, desert, old lava flows and forest hikes.
"Experience the Heartbeat of a Volcanic Landscape"
"Volcanoes are monuments to Earth's origin, evidence that its primordial forces are still at work. During a volcanic eruption, we are reminded that our planet is an ever-changing environment whose basic processes are beyond human control. As much as we have altered the face of the Earth to suit our needs, we can only stand in awe before the power of an eruption." NPS
Volcano Area Tour Info:
hawaiiphotoretreat.com (photography)
jackjeffreyphoto.com (bird watching)
kazumuracave.com (spelunking)
hawaii-forest.com (hiking)
bikevolcano.com (cycling)


kalapanaculturaltours.com
lavalandhawaii.com
bluehawaiian.com (helicopter tours)
akatsukaorchid.com (orchard nursery)
volcanogolfshop.com (golfing)
volcanoartcenter.org (fine arts & crafts)
Friends of Hawaii Volcanoes National Park
Connecting People with the Park through education, volunteerism, and philanthropy.
www.fhvnp.org
Favorite Sites in the National Park
Volcano Art Center Gallery "Historic Volcano House"
Steam Vents – Overlook
Kilauea Iki Crater Overlook
Kilauea Iki Crater Trail
Thurston Lava Tube
Visitor's Center
Chain of Craters Road
"A Cyclist's Dream…"
Imagine on road or off road cycling in Hawaii Volcanoes National Park. 4000', crisp weather with alternating mist and sun, well maintained roads and trails, and almost zero traffic. The only sound you'll hear is the birds—and your breath, as you climb 2500' with reprieves and forest surprises at every turn."
"Come make the imagined real; and oh yeah, bring your bike."
Peter Golden Creator of Volcano Rainforest Retreat / Cyclist
Area Adventure photos courtesy of: Jesse Tunison – www.toxikccolour.com