Big Island Volcano Rainforest Retreat Spa and Massage
Hawaii's Big Island is known as the Healing Island. Volcano Village has a number of fine massage therapists who offer a rich range of massage styles and services. Arrange to have your personal massage in the comfort of your private secluded Volcano guest cottage. Unwind in a relaxing and soothing hot tub. Additional Hawaiian spa services are located at Hale Ho'ola Spa within minutes of Volcano Rainforest Retreat Bed & Breakfast.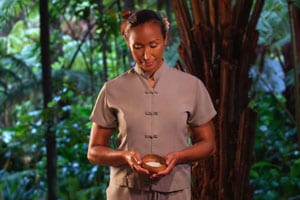 Hale Ho'ola Volcano's Spa
Experience the very essence of Hawaiian Culture and its healing elements. Feel the warm aloha spirit lift your heart and mind, body, and soul. Hale Ho'ola offers a variety of Hawaiian Healing Art Treatments, Body Treatments, Skin Care, and Rejuvenation Packages. Each treatment provides an authentic blend of Hawaiian cultural traditions, wisdom of Hawaiian Kapuna (Native elders) and traditional Lomi Lomi massage. Indulge and nurture yourself with an extraordinary spa or massage experience.
Contact Suzanne to make arrangements.
www.haleolaa.net – 808 756 2421

Massage Therapies
Hale Ho'ola Spa
Hawaiian Lomi Lomi Massage & Spa Treatments
Suzanne "Kamaluhia" Woolley LMT
(808) 756 2421
Deep Tissue, Myofacial, Sports Release, Relaxation Massage Therapy.
Young Elena Branch LMT
(808) 640-3075
Deep Tissue, Swedish and Aromatherapy
Rebecca Gonzales, LMT
(808) 640-7656
Please call spa and massage therapists directly to make arrangements, which suit your own personal timing.
Healing at the Volcano Rainforest Retreat
The Volcano Rainforest Retreat was created in this primal and sacred space with deep respect for the natural beauty of the volcanic land and the native rain forest.
Kathleen and Peter have created the Volcano Rainforest Retreat B&B in this serene native rain forest as a bed and breakfast accommodation, and as a sanctuary for those seeking intimacy with nature and each other.
The Volcano retreat lodging and grounds were developed to explore the potential for personal sacred living space as a healing art.