Volcano Rainforest Retreat Breakfast Experience
Savor a variety of breakfast choices in the privacy of your own Volcano rain forest guest cottage that fits with your timing and plans for the day. Each afternoon a breakfast basket with delectable baked goods, fresh fruit and island orchids, is delivered for the next morning. You can enjoy your private breakfast by the warmth of the fireplace or on your covered lanai, serenaded by native birdsong.
Each cottage is stocked with a variety of items such as local coconut & macadamia nut granola, almond & coconut milks, delicious assorted black, green & herbal teas, Kona coffee, local Hawaiian sugar and honey. Some guests prefer to bring additional items, such as dairy and eggs to add to our breakfast selection.
Restaurants
Big Island Volcano Village Dining
Enjoy a selection of charming restaurants and quaint cafes in Volcano Village, five minutes from Volcano Rainforest Retreat B & B. Call restaurants for days and hours of operation and to make reservations in advance.
Kilauea Lodge & Restaurant
Features Continental cuisine with a touch of local flavors. Specialties include European favorites and fresh fish from Big Island Hawaii waters. Dine amidst the high redwood beamed ceiling, original art collection inspired by the volcanic landscape and Hawaiian culture, and comforting historic Fireplace of Friendship.
www.kilauealodge.com – (808) 967 7366
Café Ono
Café Ono, a destination for the senses, is a vibrant, vegetarian luncheon experience/art gallery with tasty food and artistic presentation. Features a selection of hearty soups, fresh organic salads, savory sandwiches, Volcano Big Island coffee, tea and gourmet desserts.
www.volcanogardenarts.com – (808) 985 8979
Thai Thai
An authentic Thai restaurant, whose owner is from Thailand. Menu features spicy curries and wide selection of Thai dishes freshly prepared with a full symphony of color, aroma, texture, flavor and friendly service.
(808) 967 7969
Ohelo Cafe
New Volcano Restaurant
"A real contender for "best eats" in Volcano Village
Warm intimate bistro restaurant, entrees and gourmet wood fired pizza, open for lunch (11:30 a.m. – 2:00 p.m.) and dinner (5:30 pm – 9:00 p.m.) with an open view of the kitchen and wood fired pizza oven. Decor is modern and comfortable with an outdoor patio for sunny days. The staff is friendly, energized & fun! (808) 339-7865
Sunday Volcano Village Farmer's Market
Wake up early and catch the Big Island Volcano Farmers' Market fresh local produce along with savory breakfast pancakes, basil tomato eggs sandwich specials, and hot cup of chai or steaming hot Thai soup. A great place for an authentic experience of local the Volcano community.
Dining in Big Island Historic Hilo Town
~ half hour drive from Volcano Rainforest Retreat B&B
Hilo Bay Café
Local, organic ingredients, classical dishes reinvented, adding a modern twist with artistic ambience. Daily specials, drinks, appetizers and entrees are creative, unique and artistically presented. Dine at an indoor or outdoor bistro table with view of Hilo Bay. Also offers seating at an active specialty drink bar and sushi bar… a memorable experience with friendly staff.
www.hilobaycafe.com – (808) 935 4939
Café Pesto
Cafe Pesto with its friendly service offers a contemporary culinary adventure. Food is fresh, creatively presented and affordably priced. Enjoy a window seat with Hilo views or sit at the bar and glimpse into the culinary world of their open kitchen. Live music some evenings.
www.cafepesto.com – (808) 969 6640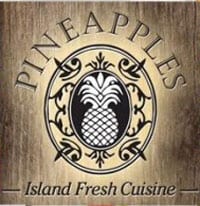 Pineapples
Open-air restaurant. Fresh cuisine with a casual gourmet flare brings a taste of The Big Island mixed with authentic Aloha Spirit. Live entertainment, bar with happy hour, lunch & dinner.
Tuesday-Sunday
332 Keawe Street
Hilo, Hawaii 96720
www.pineappleshilo.com  – (808) 238-5324
Dining on the Coastal Scenic Drive
What's Shaking
Roadside stand located on 4 Mile Scenic drive, near Hawaii Tropical Botanical Gardens & Pepeeko. Farm fresh food choices and smoothies in tropical countryside setting.
Volcano Rainforest Retreat B&B's Favorite Restaurants
Our three favorites, all in Volcano Village, locally owned and operated and within two minutes from our Volcano B&B retreat, are Thai Thai and Ohele Café for dinner and Café Ono for lunch. Volcano is a rural area with a limited, yet variety of tasty dining choices.
Our all time favorite in Hilo is Hilo Bay Café where we are continuously inspired by their daily specials, creative drinks and appetizers. We are regulars every Thursday evening after shopping for supplies for the retreat. We enjoy a dining out experience that offers an aesthetically pleasing atmosphere, fun, friendly service and unique, delicious cuisine.
We also enjoy Café Pesto on the historic bay front, with its high ceilings, expansive windows and contemporary cuisine.
Open air restaurant Pineapples on Kilauea Avenue is perfect for lunch or dinner.
Big Island Hilo Food Markets
Island Naturals Market and Deli
(808) 935-5533
Abundant Life Natural Foods
(808) 935-7411
Hilo Farmers Market
Wednesdays and Saturdays Hilo Bay front
Safeway
(808) 920-8870