Skylight House – Featured Special
In the middle of the rain forest property sits the Skylight House, a 900 sq ft twelve sided multi-faceted designed home, crafted of cedar and redwood, with a 700 sq ft covered skylit deck. The twelve sided round house, has 650sq ft of open living space, which includes a livingroom area, charming small full kitchen with island sitting area, diningroom area, fireside sitting area.
Above the open living space is a 6 ft skylight dome. The house has windows on all sides that look out into the native Hawaiian rain forest property. Secluded in the 1 1/2 acres of forest are the private guest cottages and hot tubs.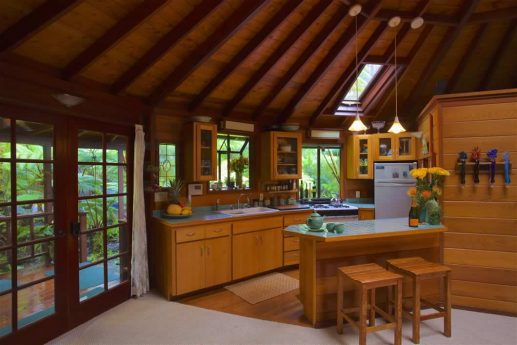 Attached to the Skylight House is a six sided 250 sq ft round redwood master bedroom, with a skylight dome and propane fireplace. The passageway to the bedroom includes a small home office.
Through the french doors off the master bedroom is a secluded forested area with a small deck and garden. On the small deck is a private O'furo Japanese soaking tub. In that forested garden area is a private outside lava rock shower. Both the o'furo soaking tub and outside shower are for the Skylight House only.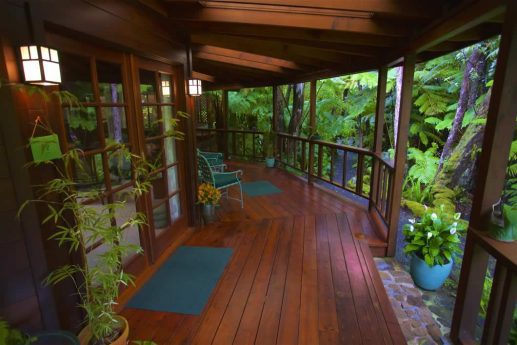 Four floor futons with bedding available for additional guests. Warm inviting accommodations for couples or families. Smoke free environment.
Please BOOK ONLINE or CALL DIRECT, to make a confirmed reservation, or with any questions regarding a stay in the Skylight House, a hosted vacation rental. (808) 985-8696 or (800) 550-8696
Full amount required to hold reservation. 60 day cancellation policy. See the About page for policies.
All rates subject to 17.96% Hawaii taxes.
No cancellations or guaranteed refunds at holiday times.
All rates, local taxes and policies are subject to change without notice.
Three nights recommended and preferred.
Discounted rate offered for 3 nights or more.
Check-in between 3-5pm; Check out by 10am.
Smoke fee environment.
Romantic and real, a unique experience inspiring us to care for our own home and ourselves with creativity and love.