Selected Trip Advisor & Google Guest Reviews
Jan 8, 2021 Reviewed by Hannah & Patrick, Hawaii
Mahalo Nui Loa!
Kathleen and Peter are wonderful hosts! We were treated to a tour by Peter of the Beautiful retreat through the Peaceful ohi'a and hāpu'u forest. You're only minutes from Volcano National Park and Volcano village. The elegant Bamboo Guest Cottage we enjoyed for a Birthday and Anniversary celebration even had a private Furo (Japanese hot bath). Breakfast was perfectly delightful with fresh local fruit & baked goods, and our hosts surprised us with the fixings for mimosas for our anniversary!A Beautiful and Peaceful retreat we will recommend to all of our friends and family!"  H&P – HI
---
March 14, 2021
Favourite experience in the Big Island!
"This place was my FAVOURITE memory from the Big Island! Other folks in their reviews say "look no further, book this right away" and they are so right! It truly is one of a kind getaway! Wonderful cottage with a beautiful fireplace, delicious breakfast, windows to the forrest, Japanese bath, it was a true retreat! Would highly highly recommend it! Thank you for a lovely stay."
---
March 6, 2021
A Special Unique Experience
"Our room was clean, friendly and well organized. Our bed was comfortable and breakfast was healthy and tasty.
The room has a wonderful cozy gas-stove, very easy to operate. The location is rich, beautiful an inspiring. The tropical flora is luxurious and interesting. The sound of the rain in the rainy nights and the song of the crickets in the clear nights make a sweet lullaby. We really enjoyed them together with our relaxing before-bed time in the clean inviting hot-tub.
Kathleen's and Peter's elegant courteous presence and Danielle's professional caring service add to the comfort of this unique experience."
---
February 17, 2021
Hawaii Last Minute Getaway
"We absolutely loved our stay with kathleen and Peter at the Volcano Rainforest Retreat. We planned a very last minute trip to Hawaii and we didnt have much knowledge of the island. We were so happy we stayed here because not only was it the most fantastic magical place, Kathleen gave us a daily game plan so we could hit all the sights and see all there was to see. Her advice proved solid as we had a wonderful time and experienced so much!!
Our accommodations were splendid and were everything we dreamed a trip to Hawaii should be. We were a family of 3 and stayed in the Bamboo guest house with plenty of
Room and privacy. The grounds were beautiful and we took advantage of the soaking tub every night! There is no better place to stay than the Volcano Rainforest Retreat!!"
---
February 7, 2021
Romantic escape into the nature
"Beautiful property located in the heart of a tropical rainforest. The rainforest retreat delivers exactly what the name implies – relaxing escape in a serene surroundings filled with beautiful sounds of rainforest, very comfortable and beautiful accommodations smartly designed to emerge you in a state of love and happiness. We stayed in the Guest cottage and also briefly visited other cottages on the property – while different in size, all of the houses are exquisitely designed and furnished. Dramatic floor to ceiling windows thought the Guest cottage allowed us to enjoy the stunning outdoors every minute of our stay. The house is extremely clean and we felt very safe staying in this beautiful property even during COVID. A must visit for everyone traveling in the Volcano area!"
---
Sep 6, 2020 Reviewed by Catherine Tripp, Hawaii
Safe and Sound
My friend and I stayed here from September 2nd through September 4th, 2020, and felt totally safe and sound at this lovely place. The owners and staff are following strict protocols, have figured out how to provide excellent service while staying out of the way. The aroma of the air is heavy with oxygen, plumeria and charm.
---
Sep 5, 2020 Reviewed by Judith, London UK
Wonderful and exquisite retreat – everything you could want
Wonderful retreat. Beautiful room and outdoor bath house in nature's most wonderful spot. Lovely hosts. Quiet and restful. Close to the top sites and a great pizzeria too! My young son and I went and had a very memorable time. You should too!
---
Aug 29, 2020 Reviewed by Christine, Honolulu Hawaii
The Perfect Retreat for a Meditation Retreat
Nestled within the old ohia and fern trees near Volcano National Park, the Volcano Rainforest Retreat provided the perfect sanctuary for an online meditation retreat. The cottages on property were separated by pebbled paths with lush plants on either side providing privacy for each cabin and also a path for short walking meditations during day or night. The Forest House was a beautiful wooden octagonal-like cabin, beautiful, cozy, clean with a queen bed, a small fireplace, fridg, and a toaster oven. Perfect for one person. The morning breakfast baskets were lovely. One caveat is that on windy nights, the trees close to the cabin would tickle the cabin roof and walls which could impact sleeping. Kathleen and Peter were kind, caring, and accomodating. The love, thoughtfulness and skill that went into building the property and maintaining it is evident. I can't wait to go back!
---
Aug 24, 2020 Reviewed by JS Aloha, Northern CA
Can't wait to go back
We had to cancel our upcoming visit due to the COVID travel quarantine today, but even just thinking about the Rainforest Retreat makes me feel peaceful. We've stayed there three times and it's my favorite place I've ever visited — anywhere. We'll be making a reservation as soon as travel opens back up again. I'm looking forward to breathing in the ferns, feeling the cool mountain air, walking through the grounds, listening to the quiet. Such a beautiful and rejuvenating place — needed now more than ever.
---
 Aug 11, 2020 Reviewed by Patrick M
Beautiful, relaxing getaway
The house and surrounding area were like nothing I've seen before. Beautiful rainforest right outside my window, and it's easy to fall asleep to the sound of rain and frogs. The outdoor bath was incredibly relaxing as well.
---
Aug 11, 2020 Reviewed by Yoga Aloha, Hawaii
Unique Rain Forest Retreat
Had a wonderful and relaxing stay in beautiful, nothing but quality, custom built cottage in a tranquil rain forest of ferns and bamboo. Host were friendly and helpful. Great location near Volcano village art galleries and restaurants
and Volcano National Park.
---
Aug 10, 2020 Reviewed by KenInKona, Hawaii
Romantic Rainforest Zen – Not to Be Missed!
Volcano rainforest retreat is one of kind! From the thoughtful considerations of the cottage design to the attentive and friendly staff, it's an A+ experience not to be missed. This isn't your typical hotel stay, it's serene, well-appointed and truly unique.
---
 Aug 9, 2020 Reviewed by Laurie, Kailua Kona
A little piece of heaven
Decided on a change of pace and headed for the east side of the island. Fell in love with the volcano rainforest retreat. Exactly what it says. Chill… can't wait to go back. Everything was perfect. Quiet, romantic, and secluded. We spent 2 nights here and never heard anything except birds and frogs.
All four cottages are unique. Peter and Kathleen really pay attention to detail and cleanliness, as well as being environmentally conscious. Truly a unique experience in the rainforest.
---
Aug 4, 2020 Reviewed by David F
Serenity in the rainforest.
From the moment we arrived until the minute we drove away, we felt at home within a new friend's home. The outdoor Japanese Hot Tub was delightful, and so private. Hearing the rain on the roof, as well as the song birds, was a pleasure for the ears. The breakfast food basket (discreetly delivered the afternoon before) was deliciously excessive.
---
Jul 28, 2020 Reviewed by Jennifer
Amazing place to stay
My partner and I couldn't have been happier with our stay at Volcano Rainforest Retreat. Such a beautiful property, and Kathleen and Peter are incredibly kind and thoughtful. Everything about our stay was peaceful and relaxing. We hope to return!
---
Jul 27, 2020 Reviewed by Ryan H Chicago Illinois
Great retreat to the east side of Big Island
What a great gem hidden deep in the Hawaiian rainforest! Kathleen and Peter were exceptional hosts and we felt truly special to be one of the first occupants in the newly remodeled Bamboo Guest House. With a great large outdoor lanai and Japanese soaking tub, you can truly soak in all the rainforest has to offer and only be minutes from Volcanoes National Park. Kudos also for the special hospitality while maintaining the COVID safety guidelines! Highly recommend for anyone looking to get to other parts of the Big Island for a few days!
---
Jul 22, 2020 Reviewed by HnlChlo
We can't wait to come back!
The Volcano Rainforest Retreat was a delight and we look forward to visiting again. What a gorgeous cabin and Japanese hot tub! Kathleen and Peter are wonderful hosts and you can see their care and thoughtfulness in everything from the stunning flower and fern landscaping to the robes and continental breakfast menus. We loved being minutes from the National Park in such a serene and secluded spot. The Sanctuary Guest House is perfect for couples who like to explore during the day and come home to a relaxing hot tub.
---
Jul 16, 2020 Reviewed by Colvin, Maui Hawaii
Everything we hoped for and more!!!
Wonderful experience! Peaceful and serene. Hospitality was 5 stars, the owners and staff were warm, welcoming and accommodating. The Sanctuary Cottage was everything we hoped for and more. It was cozy, comfortable, private and equipped with everything you could possibly need, they thought of everything! Thank you, we will be back!!!
---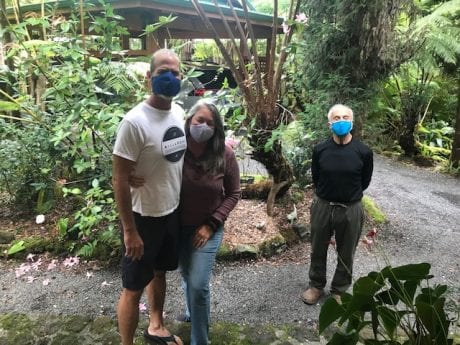 July 13, 2020 Reviewed by Lillian
A great reTREAT
We had A great time, We celebrated my birthday in The Guest cottage, Spacious living area, a loft for sleeping, settled in the rainforest with a private driveway, our host Peter and Kathleen were the best from our initial welcome, quick tour, I was greeted with mask and a contactless small celebration of balloons and wine to make my day special ..this is a must see place
In the Time of COVID-19
Responses to our Newsletter from Previous Guests
During our Closure March – June 2020
---
Dear Goldens,
We send you peace and great health during this time!
We hope the world heals soon so you can open your oasis doors to new travelers.
Best wishes to you!
Warmly,
Meghan & John Sultana
---
Thank you for the beauty and the memories!
Wishing you wellness!
Shalom,
Kathy
---
Thank you for doing your part in protecting our state.
We'll definitely be booking with you again in the future.
Aloha nui loa and stay safe. 
Dallas McCurley
---
Be well, you two! Warm regards form Victoria, BC, where we are flattening the curve :-)
Aloha,
Whitney
---
Sad to here you've had to close but happy you are both doing well.
Our fondest memories of the island were at your retreat. Take care and stay safe.
Your friends. 
John & Diane Takacs
---

Thank you for this update and your best wishes for all your former guests, like us!
We still talk about the wonderful time we had at the Retreat. It was almost 6 years ago,
but it was the highlight of our Big Island holiday.
Hoping this all ends soon, that you both stay healthy, and the Retreat can resume
its role in charming your guests.
Aloha from Canada!
Steve and Laura
---
Thank you Volcano Rainforest Retreat! 
During this depressing health situation where we find ourselves quarantined
and having to limit personal contact, it was so lovely to open your virtual message!
We had the incredibly fantastic opportunity to stay at your retreat many years ago.
It was a dream come true. If we ever (!) are released from this quarantine
and we have the resources to return to Hawaii- you would be our very first choice to revisit.
It truly was like being in Heaven on Earth!
Stay well. Stay safe. We will hopefully meet again. 
Joyce and Sandy Donsky
Pittsford, NY 
---
Dear Kathleen and Peter,
Our stay at your beautiful place in 2014 is one of our happy travelling memories!
Thanks for the update. Stay well.
We look forward to the day we can travel again.
Cheryl and Stuart Adams
---
Hi, Peter and Kathleen –
It saddens us greatly that the Volcano Rainforest Retreat has been caught up in COVID-19.
I certainly understand and hope you will continue to take precautions even after
the restrictions are lifted. As you know, we are totally enamored with the facility
and trust that we will be able to visit you in the future. I just wanted you to know
that we think of you and the Volcano Rainforest Retreat often.
We wish you the very best.
Stay safe! 
Bobbi and Pat de Haan
Phoenix, AZ
Pre-COVID Trip Advisor & Google Guest Reviews
Mar 24, 2020 Reviewed by Sirimoy, Norway
Cozy cottage, beautiful nature!

Had a great and relaxing stay in the guest cottage in March 2020. The cottage is cozy
and you have what you need. The nature around is beautiful. The owners was very helpful and friendly.
We got good recommendations for hikes and restaurants.
---
Mar 23, 2020 Reviewed by DarbM
Amazingly peaceful jungle bungalow!
This place was absolutely fantastic! It was a very peaceful escape from the world. From the second we arrived, Peter & Kathleen, were amazing hosts showing us around their property and to all of the amenities they provide. Walking up to the little cottage yielded a very peaceful building with a great porch and a large room surrounded by large windows that was very clean, polished, and relaxing. The bed was very comfortable and the robes added a nice touch to use on your short walk to your private outdoor shower & hot tub. The cabin was surrounded by beautiful trees and foliage to provide maximum privacy. It was an incredibly peaceful, relaxing, and romantic place to stay that we would recommend highly to anyone.
---
Mar 19, 2020 Reviewed by PenguinsWillTravel
Peaceful Retreat in the Rain Forest
This is one of the most beautiful places I have stayed. We only had a couple nights to explore the national park, so this was a great place to stay at to relax. You will not regret booking here, getting great tips from the hosts, and having your cares melt away. Amazing location. We will definitely be back again!
---
Mar 18, 2020 Reviewed by Daynatemby
Zen like tropical visit
We loved the location, the surroundings, very tastefully done. The Japanese tubs were so nice and the gardens were unbelievable. The lovely decor and warm hospitality were added benefits. Also breakfast included was a nice touch. All in all my favorite was the serenity, all to perfection
---
Mar 16, 2020 Reviewed Bainbridge Island Guest
Spiritually Satisfying & Energizing Retreat
A perfectly named place, the Volcano Rainforest Retreat delivered far above expectations! Our hosts, Peter and Kathleen are the kind of people one treasures in life. Warm, helpful, super knowledgable, they made us feel we were special. And I saw them interact with other guests in the same manner…..their love of what they do and how they share that is heartwarming.
We stayed in the Bamboo Guest Cottage, a beautiful, well-appointed private retreat. Each cottage is situated for maximum privacy, 'social distancing' is built in here! The small touches that elevate this place to superb are abundant and enchanting. We are so pleased with our selection of this place that we already plan to go back soon.
Don't miss this special place!
---
Mar 13, 2020 Reviewed by Chanaman
BEST VACATION SPOT
The best environment if you want to just forget that concrete jungle you work in everyday and just melt into nature. The service was great, there is always someone there to help you. very peaceful retreat for everyone.
---
Mar 12, 2020 Reviewed by Jill H
Bamboo Guest Cottage
We stayed in the bamboo guest house. Jenny was as very informative about places to eat and explore. The space was beautifully decorated, with the Japanese outdoor bath and the fireplace stove to thoroughly warm us on a chilly March evening. It was luxurious and memorable with the colors, artwork, parking, and greetings and send-off by Peter, the host.
---
Mar 12, 2020 Reviewed by B Hawkin, New Zealand
A trip to the volcano
We had a fantastic time at this Rainforest retreat. Peter the owner greeted us as we arrived and we had an update of the facility and the area by a host. This was a beautiful cottage in at all the amenities we could possibly use. I would definitely stay here again when we go back to this area. The bed was extremely comfortable, the hot tub was very unique and fun, and the kitchen was very functional. They also met our dietary needs for our breakfast.
---
Mar 11, 2020 Reviewed by Elizabeth, Florida
A special night
It was a terribly rainy day and evening but the cottage was warm and cozy with the gas burning fireplace. I liked the sound of the rain on the tin roof. We never went out for supper, enjoying the picnic dinner we had brought with us. The Jacuzzi was perfect to loosen the joints after a long day of driving. A lovely experience.
---
Mar 5, 2020 Reviewed by Julie B

Amazing!
As world travelers, this is one of the favorite places we've stayed rivaling exotic Thailand and Borneo… a true rain forest experience. The accommodations were better than we could have wanted. Thanks Peter and Kathleen!
---
Mar 4, 2020 Reviewed by Tin Lizzy
Lovely Stay at Volcano Rainforest Retreat
We stayed in the Bamboo Guest House for three nights last month for my birthday, as we wanted to be close to Volcanoes National Park. This property is amazing, unique, and wonderfully relaxing. I soaked in the japanese-style tub each day after hiking, and we greatly enjoyed the layout of the cottage which had a full kitchen and a lovely front lanai with built in seating. The entire cottage design is a kind of marvel and it is thoughtfully appointed with incredible art. The breakfast basket was wonderful and provided us fresh fruit, baked goods, and juice each day of our stay – very helpful. We loved looking at the stars late at night and having a covered car port for our rental vehicle. There are also some fantastic nearby dining options!
---
Mar 3, 2020 Reviewed by Meg E
Zen Ten
I highly recommend the rainforest retreat. It is a peaceful, serene environment. It is so close to the park and volcano village. The Japanese soaking tub is my favorite. It was an incredibly Zen environment.
---

Feb 19, 2020 Reviewed by Connier
Magical!!!
My husband and I loved our experience! Showering at night outside in the rainforest was magical! The peace you feel when you fall asleep at night and wake up in the morning in the Sanctuary is indescribable. Before arriving I was concerned about being cold but found that the electric stove started by a remote control kept us warm and toasty! We'd love to return and highly recommend to anyone considering staying at this unique "retreat".
---
Feb 19, 2020 Reviewed by Michael B
Absolutely Fabuolous
This is a piece of paradise beyond expectation and the Japanese bath in the rainforest is just the perfect touch. We will be back next time in Hawaii as the perfection of this stay is poetic. The home is filled with beautiful local arts and the breakfast provided is both locally fresh and in tune with where
conscious traveler understands sustainable and minimally impacted food sourcing.
---
Feb 17, 2020 Reviewed by Jodi
Heaven
Came here on a flyer, alone, for a restful weekend before a multi-island work trip. Stayed in the exquisite "sanctuary" cottage. Kathleen, Peter and Jenny made sure I knew all their favorite places and side trips – there's no way my visit to the island would have been so incredible without their help and hospitality. Hated leaving. Flawless experience that transcended my expectations in every way. Thank you!
---
Jan 26, 2020 Reviewed by Passenger
Impeccable, Eco-friendly Retreat
The property is very well maintained and sparkling clean. All 3 cottages are lovely and very thoughtful and comfy built, designed and decorated. Natural materials were used and the cottages are integrated in the forest. You can see the architect worked with the nature and did not just erased it. We had 2 nights in the Guest Cottage (rustical style) and one in the Bamboo Cottage which is bigger and sophisticated. We loved both. You'll find all you need in the kitchen and everything is working and is very clean. The outdoor japanese bath and the hot tub are great. We had the chance to meet the owners. Very nice people, very communicative. We had some very nice conversations with Kathleen, who gave us all the needed details for our stay and the visit at the volcano national park. We could not have asked for more. Welcoming. Cozy. Secluded. Sparkling clean. Very natural and eco friendly. We recommend this retreat to anyone who loves / respects nature and enjoy beautiful architecture and stylish accommodations.
---

Jan 24, 2020 Reviewed by A Kdamd
Better than advertised!
This place is fantastic and great for young or old couples. Incredible privacy and Hawaiian hospitality were abundant during our stay. The setting makes you feel like you're lost in a rainforest and we are already talking about coming back. The private Japanese tub was relaxing, beds soft, and rental unit well equipped with amenities. Be sure to follow Peter's papaya recipe – it's amazing! Mahalo for a great stay!
---
Jan 18, 2020 Reviewed by Tabb Marie
Heaven on Earth!
We spent only 2 nights in the Bamboo guest house, but it was the highlight of our 12 day trip to Hawaii. The cottage was spacious enough for our family of 4 (children aged 12 and 9), and was cozy. It was a wonderful change from hotel rooms. The bed was warm and comfy, they provide all the amenities you may need (robes, towels, dishes, a selection is soothing music CDs, and interesting DVDs). As well, they provide a nice basket of breakfast foods, dry granola, coffee, tea, etc. Note, regulations prevent them from providing milk and eggs, but we popped into the general store in Volcano and purchased a dozen eggs and we were all set for a wonderful breakfast each morning. This would be a perfect place for couples or honeymooners looking for a romantic getaway. Ideally situated near the village of Volcano and Volcano National Park. If you plan to visit VNP, you MUST stay here! We definitely plan to return!
---
Jan 7, 2020 Reviewed by Edwards C
Great Experience at the Volcano Rainforest Retreat
This is a terrific place that provides a unique experience. Our room was tucked into the rainforest, which gave us beautiful scenery and privacy. Listening to the rain on the skylights was a daily treat. Speaking of treat, the hosts provide delicious and thoughtful breakfasts. Listen to Peter's recommendations about activities. They are all good, from the hikes to the suggestions for restaurants. We hope to get the chance to go back. We travel a lot, but this place really stands out.
---

Jan 5, 2020 Reviewed by Allessandra
Best Stay at the Volcano Rainforest Retreat!!!
My husband and I had such an incredible stay at the Volcano Rainforest Retreat. We stayed in the Bamboo cottage and I am already trying to plan our next visit back! From the moment we arrived we felt relaxed and were beyond excited about the spot. Also, the location was minutes away from the park which was another plus for us! I highly recommend staying at the Rainforest Retreat. You will be in awe I promise!
---
Jan 4, 2020 Reviewed by Andrea Kvam
Romantic Honeymoon Stay!
We stayed for three nights at the Volcano Rainforest retreat; two nights in the Sanctuary and one night in the Forrest house. Both were very nice, but we especially liked the japanese bathing house with private hot tub in the Sanctuary. When we arrived we were greeted by the manager, who showed us the facilities and gave us lots and lots of tips to what to do on the Big Island. We used a lot of them, and could't have had a better stay in Volcano. Both Peter and Kathleen are really attentive hosts, and a stay here is highly recommended!
---
Dec 22, 2019 Reviewed by Morrie W
A True Gem
There is no other place we've ever stayed that comes close to the beauty of VRR. Every detail selected with TLC. Beautiful environment, lovely and calm setting. This was our second stay and we will definitely come back again whenever we are on the Big Island.
---

Dec 20, 2019 Reviewed by T Fisk
Wonderful Experience
The Bamboo Guest House was hidden in the rain forest. The house was perfect and allowed us to spread out and relax. Kathleen and Peter also were so helpful and took care of us like family. Such a wonderful time for our family!
---
Dec 19, 2019 Reviewed by EWTH
Surpassed ALL Expectations
We loved our stay at the Rainforest Retreat. What an enchanting place. The grounds are beautiful, lush and quiet. We stayed 3 nights in the Forest House. It is perfect for 2 people or a solo traveler looking for some solitude. We will definitely return. And a special thanks to the owners – great people.
---
Dec 19, 2019 Reviewed by RK Pride
Amazing Accommodation
This b&b was amazing. Gorgeous rooms and views. The Bamboo room was so luxurious with its outdoor hot tub. Our family of four loved this relaxing space. The owners were so friendly and their advice on where to hike to eat was spot on.
---
Dec 3, 2019 Reviewed by Freedom
Serenity Found!
This is such a special place. The green and beauty that surrounds you really makes for a perfect escape. I wish we could have stayed longer – we'll definitely be back. When we returned from our vacation and people asked about the trip – the Retreat was the first thing mentioned. Paradise.
---

Nov 3, 2019 Reviewed by Webrender
AMAZING Big Island retreat! The BEST Accommodations on the Island.
Our expectations were already high for the Volcano Rainforest Retreat, but our stay there blew us away. Incredible location in the middle of a dense rainforest. Quiet, private suites – ours had a personal outdoor shower & tub which were wonderful. We stayed in the Sanctuary cottage, which was such a beautiful structure that we're considering building our own! Delicious continental breakfasts every morning, friendly and efficient hotel staff. Volcano itself had a few fun shops and restaurants, and was centrally located so that it was easy to explore the rest of the island. 10/10!
---
Oct 26, 2019 Reviewed by Pilarmic
Paradise Found!
This place was magical for my husband and I. We stayed in the Bamboo Guest House for our 20th anniversary, and between the amazing rain forest vegetation, the beauty of the Guest House and the Japanese soaking tub out back surrounded by candles we found heaven on earth. The breakfast basket that was supplied for us was delicious, filled with local fruit, home-make granola and local Kona coffee. We will be back for sure and plan to make our stay much longer!
---

Oct 8, 2019 Reviewed by Kozy Ninja
A Tranquil Retreat for a Couple!
We really enjoyed our stay at Volcano Rainforest Retreat. We stayed in the Sanctuary Cottage which was perfect for a couple. We loved how carefully planned the grounds were, yielding a sense of privacy even though the other lodgings were fairly close by. It was much cooler here than other areas of Hawaii that we visited, so we slept well (to the sound of rain forest critters) and even used the gas fireplace for a little bit each morning. Breakfasts were another plus: a variety of baked goods, fruit, etc, that we could choose to be delivered to us the night before. It really made for a tranquil start to each day. The outdoor shower and tub took a bit of getting used to, but we found ourselves liking them more than we would have guessed on the outset. The cleaning staff kept the place spotless and the gentleman who checked us in was full of great tips for exploring the park. All-in-all we had a great stay and would highly recommend this place to other couples!
---
Sep 8, 2019 Reviewed by Jalex
Rainforest Sanctuary and Guest Cottage Retreat
This was our first time staying at VRR and it won't be the last! VRR has great accommodations, friendly and knowledgeable staff, and absolutely stunning grounds. The owners Peter and Kathleen have created a special place to experience this unique rainforest basically adjacent to Volcano National Park. Enjoy!
---
Aug 11, 2019 Reviewed by Faeriefish
Gorgeous Cottage Inside and Out
We had an amazing and relaxing stay at the Sanctuary Cottage for our first wedding anniversary. We actually planned our entire trip around getting to stay here and it definitely lived up to our hype. This cottage looks like a dream inside and out, and is surrounded by a beautiful tropical forest. It felt like luxury indoor camping. The soaking tub was so relaxing and perfect.. I think I need one in my future house. Sitting outside on the porch, sipping coffee or drinking a beer (depending on your pleasure) and listening to the frogs was so perfect. Peter told us everything we needed to know about visiting the park and all of the restaurants in Volcano. They provide a wonderful packet with everything you need to know. Peter and Kathleen are wonderful hosts- so kind and friendly. Every amenity we could have asked for was provided, and the continental breakfast was perfect including fresh fruit, locally made honey and granola, plenty of baked goods, and of course coffee and tea. I recommend the macadamia granola with almond milk, sliced apple bananas and a drop of honey on top. Yum! I would absolutely stay here again, and it is worth every penny.
---
Aug 8, 2019 Reviewed by Avidjestsetter
3 Days of Total Heaven
Volcano… Rainforest… Retreat literally describes our 3 days stay in this piece of heaven in the Big Island! we stayed at the Forest house and we were
living with nature. the rainforest is around us in and out of the house. Ferns, bamboos, anthuriums abound which were very visible inside the house because of the big picture windows. we can see the sky and the stars from our ceiling! We hear the birds chirping and the soothing sound of rainfall! The refreshing bath from the hot tub with nature around us was one of the best experience we had! Coming from the noise of the city, Volcano Rainforest Retreat indeed gave us the much needed peace and quiet and it also made us love nature all the more! The owners and their staff were there to welcome us and made sure we had a wonderful and relaxing stay!
---
Aug 7, 2019 Reviewed by Jennifer G
Relaxing space nestled in the rainforest!
The Volcano Rainforest Retreat is a very special place, not your usual bed and breakfast! The grounds are exquisitely nested in the rainforest, and you will fall asleep to the sound of tree frogs chirping. We enjoyed adventuring in Hawaii Volcanoes National Park, which is a 10 minute drive. Each day, we looked forward to coming back to the retreat and relaxing in the beautiful setting of our cottage. Peaceful, enchanting, unique… spectacular.
---
Aug 4, 2019 Reviewed by Jamie M
Amazing!!!
The Bamboo Guest House at Volcano Rainforest Retreat provided one of the most unique and beautiful vacation experiences we have ever had. We were surrounded by the sounds of the rainforest and loved being able to open the windows all around the house to have a breeze and symphony of nature while we rested inside. We highly recommend this location and hope to be back.
---

Jul 20, 2019 Reviewed by N Salem
Just Wow
What else is there to say than "wow". The retreat is a fascinating place within the rainforest. The rainforest itself is fascinating with all its sounds and plants, the cottage was really nice and comfortable, we loved it. Not to start with the "crew" – rarely experienced such a warm welcome like in rainforest retreat, with lots of information about the island and surroundings. Thank you very much for a great time on big island, it was a please to come "home" every single evening. Greetings from Berlin
---

June 24, 2019 Reviewed by Rodriquez Mirabal
Top Notch!
Top notch service in a magical place! The hosts took their time to explain everything and gave us tons of recommendations for activities around Volcano. The breakfast was personalized and the place is just beautiful! If you are a nature lover like I am you will fall in love with this place.
---
June 11, 2019 Reviewed by g8torPaul
Amazing 4 Day Retreat at the Volcano
We just finished a 3 night stay with 4 people (2 adults + 2 kids) at the Volcano Rainforest Retreat. This place is amazing and would definitely recommend to anyone who is looking for a getaway and some sight-seeing at the Volcano National Park. We would definitely book this again if we get the chance. I cannot say enough good things about it. Here is a little info on our experience there: 1. Location The place is located in a small rainforest community just outside the Volcano National Park. We spent multiple days exploring the park with some day trips to Hilo and
south Hawaii. This was the perfect location for our adventure. There is a small village area nearby which has restaurants, small shops, and art galleries. I can say
that we felt like we were in a remote peaceful retreat but close enough to everything we needed. 2. Accommodations We stayed in the Guest Cottage which was perfect for our family of 4. We slept in the loft and our kids slept on the pullout futons in the living area. The cottage has a full kitchen which was very useful during our stay. Everything in the cottage worked great and was very clean. The room had free WIFI which we used. There was an additional small room for storing luggage and getting ready in the morning which made the whole space very livable. Bathroom/Shower worked great for us. 3. Breakfast We were provided with ingredients for breakfast in our cottage each morning which included pastries, fresh fruit, eggs, locally made granola, local coffee, tea, milk, etc. This was great. We enjoyed making breakfast each morning and having a few snacks thru out the day. 4. Property The property has a few other cottages and is fun to explore. There is a small sanctuary and outdoor hot tub area as well. The grounds are covered with wonderful plants, trees, and tropical flowers. It is very quiet and peaceful there. The last thing I will say is that the management and owners of this place are wonderful. They made us feel very welcome and were very helpful in guiding us to nearby sights. We changed our original itinerary based on their recommendations and had a great experience. Their 20+ years of experience running this property really shows as they are great hosts.
---

June 3, 2019 Reviewed by Albert Yonas
Magical Retreat
We just spent two nights at this magical retreat. We don't know where to begin to describe how delightful and amazing everything was on the property and, especially, our peaceful cottage with its open-air Japanese bath house. Kathleen and Peter provided terrific advice about what to do, where to go, and where to eat in the area.
---
May 31, 2019 Reviewed by Mike Shauna
ZEN
Amongst our island-hopping planning, spending time on the East side of The Big Island on the volcano was a must. In our searching for a place to spend a couple nights we found Volcano Rainforest Retreat. I'm quite convinced that if you're in the process of looking at options, you could not ask for a more peaceful, serene place than Volcano Rainforest Retreat to return to from a day of hiking the volcano. All businesses in the area suffered a good amount last year due to the volcanic activity and everything that came with it. Do yourself a favor and book this place and support Peter and Kathleen and all the local places you visit and continue to help them bounce back. The area will pay you back in spades. Thank you Peter and Kathleen for sharing such a beautiful property! Our rental license tag fit quite well.
---

May 27, 2019 Reviewed by Ying-Kai Chung
I love it very much
It's so beautiful, we are very honored to be the Taiwanese who lived here in the Dijon group!
I love it very much!
We look forward to visiting again!
---
May 27, 2019 Reviewed by Conny Koch
What a Dream!
Always expect the unexpected and you will get the best – and that's what happened to us at the "Volcano Rainforest Retreat"! What a dream when you arrive from the spectacular drive from Kona with a visit on Mauna Kea, a short visit to Hilo, into the spectacular world of Volcano. Quiet, tranquil and inviting – the rainforest welcomed us. After a lovely check-in we stepped into our wonderful and unique "Bamboo Guest House" – we were just overjoyed. Kathleen & Peter Golden have done such an incredible job and in every corner you can see the love of detail. Not to forget the basket with the delicious breakfast items and the perfectly equipped kitchen. The whole cottage was simply "home sweet home" and ending the day with a dip in the hot tub in the middle of the rainforest can not be more beautiful. Dear Family Golden – Many thanks for 4 beautiful days which I could spend with my family. All future guests can look forward to a great time and certainly take home an unforgettable travel experience. We can recommend the "Volcano Rainforest Retreat" with full conviction!
---
May 20, 2019 Reviewed by GabriellaKay


An Incredibly Peaceful Getaway
Highly recommended! This location is so quiet and peaceful with genuine nature sounds and beautiful trees surrounding the glass windowed hut-like sanctuaries fully equipped with a bathroom, sink, breakfast bar area, nice sized bed, TV and chairs plus a hot tub! It's everything you need to unwind in one beautiful place. You won't want to leave. However, the staff also provide a very thorough and helpful orientation as well as map handouts + a binder with everything you want to know and more about activities on the Big Island in case you're looking for an adventure.
---
May 19, 2019 Reviewed by Courtney
Beautiful Place!
I stayed at Volcano Rainforest Retreat for five nights and it was just beautiful! Such a relaxing place, peaceful and welcoming from when you arrive, which is reinforced by Peter and Kathleen's helpful introduction to the retreat and your accommodation. It's so wonderfully close to Volacnoes National Park, close to restaurants in Volcano, not too far from Hilo, and just a great place to base yourself for exploring the island. I even managed to take a day off exploring and spend a whole day relaxing at the retreat. It's just paradise, five days wasn't long enough. I'll be back for sure.
---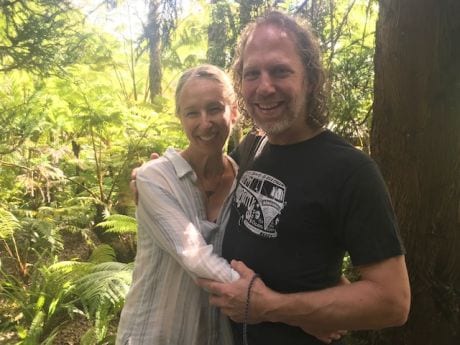 May 16, 2019 Reviewed by Companion
Beautiful Retreat in perfect location!
What a special place the Volcano Rainforest Retreat is! Right in the rain forest, and so convenient to exploring the National Park! Our hosts were so kind and helpful, provided everything we needed, and gave us great tips about exploring the area, too. We highly recommend this unique and restful place!
---
May 8, 2019 Reviewed by Minji Hong
We want to visit here again
I stayed in the guest cottage for 3 nights with my family of four, senior parents and a sister. The space was very beautifully designed and thoughtfully organized. Each unit is secluded away from each other to have a complete privacy that made our family feel we're in the quiet rain forest only dedicated to us. The space is originally designed to serve 2 people, but with the futon bed in the living room area, it served us sufficiently. My favorite aspect was all little touches this space has, furnitures, textile, lights, and objects – everything was designed thoughtfully creating a beautiful vibe into a whole. Kathleen and Peter provided very detailed local information where to check after the volcanic eruption last year, which helped us design our trip across east side of the island. It was thoughtfully hand-picked and written, with image and maps–I took photos of them for my next visit! I highly recommend this place to anyone who want to spend time at the Volcano park, as it's in close distance, but staying here itself was a satisfying experience to relax and refresh. Thank you so much for your hospitality, we want to visit here again!
---

Apr 27, 2019 Reviewed by ORDINPEOPLE
Great stay in the rainforest
We stayed for 3 nights in the forest house. We were warmly greeted by Peter and Kathleen and settled into our accommodations in the rain forest. It is very private and we were surrounded by lush and beautiful vegetation. It is extremely private and peaceful. We enjoyed the hot tub and delicious breakfast. Amazing experience.
---
Apr 20, 2019 Reviewed by IraBernstein
A magical retreat experience
We stayed in the Sanctuary, which lived up to its name. It is an intimate and very beautiful round wooden hut designed by Peter, surrounded by lush rainforest with a wonderful outdoor shower and soaking tub. Peter and Kathleen are warm and caring hosts and provided excellent suggestions for area restaurants and hikes in and around the park. Be sure to order the breakfast quiche provided by a local cafe and friend of Peter's. The coffee and fruit were excellent. We were very happy to stay at the Volcano Rainforest Retreat and highly recommend it.
---
Apr 17, 2019 Reviewed by carrietj
Gorgeous and unique
We stayed in the Bamboo cottage, and it's one of the most beautiful places we've ever stayed. There are so many thoughtful details! Every time I though, hey, I wonder if they have a <whatever>, it was there, from decaf coffee to
extra blankets. They include a personalized packet with current details about the area, as well as a big binder with info on all the local attractions and even copies of the menus of just about every local restaurant! The landscaping is so carefully done, you really feel alone in your cottage in the rainforest. And being able to luxuriate in the Japanese-style soaking tub, listening to the rain fall on the roof of the little outdoor pavilion, with the trees and bamboo all around, was absolutely glorious!
A note about breakfast and housekeeping: It's called a bed and breakfast, but it's sort of in between a guest house, a B&B, and a hotel. The first day, they provide baked goods (as well as spreads for them including peanut butter, jam, butter, etc), lovely local fruit, locally made granola, milk, half and half, coffee, tea, and raw eggs you can cook for yourself. For subsequent days, there's a small paper menu you can fill out if you need anything replenished or if you want vegetarian quiche (which is really good!), which they pick up when they come in to do housekeeping in the middle of the day. It's such a nice combination of the privacy of a guesthouse and the luxury of a yummy breakfast provided for you. You can even leave your dirty dishes and they'll do them when they come in to tidy up! And they're super accommodating about it. We forgot to fill out our menu one day, and when we returned in mid-afternoon, we found a note asking if we needed anything; when we called to apologize and ask for quiche, Kathleen was super nice and made sure we had some for the next morning.
---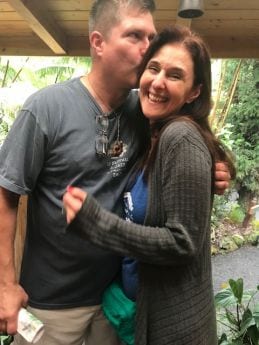 April 6, 2019 Reviewed by 4carps
Lovely stay
We thoroughly enjoyed our stay here. The rainforest, the peaceful atmosphere and the beautiful lodgings that fit right into the surroundings were more than we expected. We were comfortable, well fed and very content during our stay. The hosts were kind and helpful as needed. We stayed in the Forest House and had everything we needed, plus a cozy gas stove. We enjoyed the convenience of the hot tub to our cottage as well.
---
April 5, 2019 Reviewed by Mary Jane D
50th anniversary trip
Property was awesome! Stayed 4 nights at the Bamboo cottage and wish we were back there right now! Kathleen and Peter are wonderful hosts. Kathleen spent so much time giving us things to do and recommendations on restaurants which made our stay even better. Cottage had everything you need. Locally made granola and Peter's suggestion on serving papaya were welcomed treats in the morning.
---

April 5, 2019 Reviewed by 192330
Hidden gem
Have you ever found something so good that was totally unexpected? Well, that is what our family discovered with the Rainforest Retreat located within the quaint, little town of Volcano! From the moment we arrived we were welcomed with a tour and information about the area given by the owners. The owners thoughtfully took the time to consider our stay, provided homemade and locally grown breakfast items and then actually printed out maps noted with ideas for activities and sights to see with the limited time that we had on Hawaii. In addition to this amazing hospitality, you are surrounded by the beauty of the rainforest, local art and flowers and get to stay in lovely Japanese styled cottages. Unbelievable attention to detail! A definite WIN!
---
March 28, 2019 Reviewed by David N
Fantastic Getaway!
We appreciated the serene retreat they have created. There is so much beauty and attention to detail. Obviously much love was poured into their cottages. Wish we could have stayed for five nights instead of one!
---

March 23, 2019 Reviewed by Rhonda S
Wonderful and Relaxing Stay!
We just returned from a wonderful stay at this lovely B&B tucked away in a tropical rain forest. It was a welcome change from the hustle and bustle of Kona. We stayed in the Forest House and my brother and his wife stayed in the Guest House. Both units were beautiful, equipped with everything one needs for a pleasant stay. After spending the day hiking Volcanoes National Park, we very much enjoyed the private outdoor hot tub. The hosts were very helpful in reviewing all of the property's amenities, things to do and see and where to enjoy a nice dinner. I wouldn't hesitate to stay here again! My only regret is we only spent one night. If I were to plan it again, I would have stayed at least two to fully enjoy the sights in the surrounding area and the property itself.
---
Mar 14, 2019 Reviewed by KTravelsAllAbout
Gorgeous, rustic luxury
The Volcano Rainforest Retreat is tucked away in the rainforest in the little town of Volcano, Hawaii on the big
island. We were there for 2 nights. Kathleen and Peter are very helpful and treated us like we were guests in their own home. We stayed in the guest cottage which is lovely and quaint. Loved the fresh flowers, breakfast in the room, and the general feel of the place. It's very peaceful!
---
Mar 13, 2019 Aaron Reding
Amazing Hawaii
This is by far the best place we stayed at in Hawaii! If I did it over again I would have skipped all the other hotels and stayed here the whole time. The Sanctuary Cottage is amazing for two people. Lots of great little details like the really nice bathrobes, perfect breakfast (with good coffee), and the Japanese-style soaking tub and outdoor shower. Thank you Peter and Kathleen!
---
Mar 6, 2019 Reviewed by Michael A
Paradise Found…
The online description and photos are what convinced us to book our time here…but once we arrived we were blown away. You really do feel like you have been swept away to a magical kingdom. Peter and Katherine have gone to great lengths to create a sacred space to escape to and be refreshed. We had two of the accommodations: the Guest House and the Sanctuary. Both places embrace you with peace and comfort. The Guest House has a full kitchen/living room, attached bath, and loft bedroom. The Sanctuary is a hexagonal structure with windows all around looking out on the rainforest. There is an outdoor shower and Japanese style soaking tub here…and not far away a hot tub for relaxing at the end of the day. Each place is provide with fresh fruit and assorted pastries for breakfast. We all felt renewed when we left (and only wish we could have said our farewells in person).
---

March 4, 2019 Jessica Popp
Gorgeous!
We loved our stay. Gorgeous setting. Total privacy and completely quiet. The hosts are extremely thoughtful and the little things (like pre stamped postcards to use) made it even more special. Several good restaurants in the area made for a great mix of remote and accessibility.
---
Mar 4, 2019 Reviewed by DavidS336
A little slice of heaven
Nothing earthly compares to VRR. You are totally transported to a heavenly green jungle and spiritual space. Everything is though of for your comfort and peace. What a beautiful beautiful place. Thank you so much for taking such good care of us.
---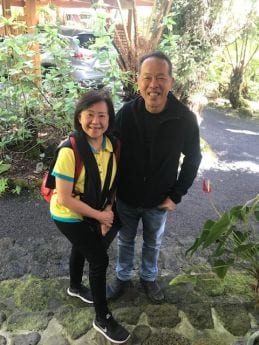 Feb 26, 2019 Reviewed by Innatravels
Incredible gem
This is an incredible place in the middle of a rainforest that's just a short distance from the national park. We stayed in the sanctuary cottage and it was so lovely. The pictures of the cottage and grounds don't do it justice. It's such an experience. The owners gave us so much information on where to visit and eat. They were just the best.
---
Feb 23, 2019 Reviewed by outdoorsymama
Perfectly done
We were SO glad we stayed at the rainforest retreat…. and wished we could have stayed more than just 2 nights while visiting the national park (less than 5 min to the entrance). from the moment we pulled up and was greeted by the staff and host peter, to the moment we left with a note on our car warning of us of potential severe weather and a wish for safe travels – we felt welcomed with kindness and surrounded by peace and beauty.
My husband, infant son, and I stayed in the forest house and it was just perfect. It has everything you need and felt very much like a retreat with a small gas stove, 2 lounge chairs, a small kitchen table/chairs, meditation pillows, an almost outdoor bathroom, and skylights giving view to the forest canopy and full moon. It felt very private. The breakfast basket had great tasting baked goods and the fridge was stocked with everything else you might want for breakfast – in addition to local mac nut granola, coffee, tea, and honey. I loved how all the dish ware and decor was all from local artists! The grounds are just beautiful and you can feel the effort and energy of the owners in making you feel welcome.
Truly a great place to stay – I hope to return and try a different cottage sometime in the future and would recommend it to anyone looking for a peaceful place to stay.
---

Feb 14, 2019 Reviewed by swisschardfan
Serene and soothing. Skillfully designed.
My husband and I spent 3 nights here in late January. It was the perfect way to begin our 2 week trip to Hawaii. We arrived, exhausted after an all day flight from the East Coast, and the stresses of the trip just washed away. The gas fireplace was much appreciated that evening as it was chilly. That night we fell asleep quickly, listening to the lull of rain hitting the trees.
The cottage is so thoughtfully designed, every amenity we needed was close at hand. Comfortable places to relax were abundant. The kitchen and the basket of breakfast treats were the best; some of the favorite meals of our entire trip were the breakfasts we made ourselves. It was a beautiful place to come back to after a day of sightseeing, it truly felt like home.
It was difficult to leave on our last day, and we found ourselves often thinking about it during our 2 weeks in Hawaii.This is a place where everything falls into place, from the attentive but private service, to the amenities in the cottages, all surrounded by lush rain forest.
---
Feb 12, 2019 Reviewed by emmatrainor
Incredible space of transformation
Upon arrival to the Volcano Rainforest Retreat, I expected to be treated to a luxurious spot to rest and enjoy near the Volcano National Park for a night. My expectations were far surpassed. Although we only spent one night at Peter and Kathleen's retreat, we set the intention to fully use the space and time that we did have to be one of healing and transformation, and it was exactly that. The mindfulness, wisdom, and compassion that Peter and Kathleen embody is evident in the architecture, landscaping, and art they have curated that allows people who are fortunate enough to find this magical place the space to relax, contemplate, and evolve. Upon our arrival, we were
given a thorough tour of both the property as well as a run down of activities and sites we never would have known about had we not been presented with a guidebook with an extensive amount of information about local restaurants, tours, hikes, and events. While we were there the hot tub was undergoing maintenance, and Peter graciously offered us the Japanese bath that was available in the empty neighboring Bamboo House. We thoroughly enjoyed our late night soak in this cozy spot while gazing at the moon shining through the giant fern trees, admiring the incredible architecture, and mindfully walking the paths while listening to wind chimes and night critters. The gas fireplace, mirrors, and natural lighting via the skylights and floor to ceiling windows in our octagonal forest cottage created a container that felt safe, warm, and immensely beautiful.
The energy of this space is truly magical and offers the opportunity of transformation for those who are open to it. Kathleen, Peter, and the staff that work to keep the retreat space ticking are wonderful people who we thoroughly enjoyed talking with during our stay and can't wait to visit again. They thought of everything that we could have needed or wished for. Before our departure we enjoyed fresh and local fruit, granola, and coffee in the morning before sharing our gratitude and saying goodbye. I left the Volcano Rainforest Retreat with more insight and inspiration than I had upon arrival in the span of less than 24 hours. If you have the chance to visit this place, do it, you will not be disappointed!"
---
Feb 11, 2019 Reviewed by Carla K
Magical
This Japanese-inspired retreat delivered a perfect experience on so many levels.  The design and architectural details, along with the lovely furnishings, created a one-of-a-kind visit.  The soaker hot tub provided a relaxing end to each day's adventures. The multi-angle walls, windows and mirrors created the illusion of staying in a tree house,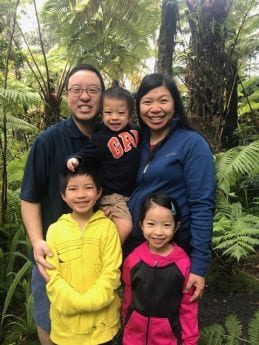 especially as we enjoyed watching the kalij pheasants wander around.
The staff greeted us enthustiacally and gave very detailed introduction as to how all of the ammenities worked.
The location is extremely convenient to the Volcanoes National Park and the village of Volcano. Some of the park is restricted due to last year's eruptions,  but this area is very much open for business and welcomes you with open arms.
Highly recommend.
---
Feb 2, 2019 Reviewed by Julie N
Travel
It was beyond our expectations. The Guest House has been prepared for nothing. Fresh flowers decorate each room. The beauty and tranquility of the place is soothing. What about the breakfast garnished with all kinds of attention. Thanks to Jenny for all the recommendations. We will definitely come back :))
---
Jan 28, 2019 Reviewed by passerines
Tranquil magic

What a wonderful one-night stay at Volcano Rainforest Retreat. We stayed in the Sanctuary Cottage and loved the lush rainforest setting and the quiet privacy. The outdoor shower and Japanese soaking tub were lovely—so deeply relaxing to soak in hot, hot water, listening to the breeze rustling through the leaves above. The cottage was sparkling clean, and cozy despite the chilly night, thanks to the little electric fireplace and comfy duvet. The owners and staff have considered every little detail. I loved the thoughtfully presented breakfast basket with pastries,
papaya, bananas and limes alongside Peter's delectable papaya recipe to good Kona coffee and addictive granola to fresh hard-boiled eggs and both dairy and non-dairy milks in the fridge. The property grounds are dark, but the rooms have plenty of small flashlights to guide your path. And speaking of guides, Lisa's friendly welcome tour of the property provided us with tons of great ideas for things to see and do nearby. Can't wait to return to this little tranquil haven. A real gem.
---
Jan 21, 2019 Reviewed by Ernshkin
Treehouse feeling
Nestled in a thick tropical garden with windows all around including from the upstairs loft this place has a real
peaceful hideaway in the treehouse feeling. Spotless comfy with everything you need for a relaxing nights sleep and energizing breakfast before a day of volcano visiting. Perfect location near volcano village and park. Lots of advice, maps and written guides provided.
---
Jan 20, 2019 Reviewed by AbbeyGLA
Magical Volcano Rainforest Retreat
As part of our Hawaiian Honeymoon, we stayed 3 magical nights at the Volcano Rainforest Retreat. We spent 1 night in the Guest Cottage and 2 nights in the Bamboo Guest House. We loved both rooms! The Guest Cottage was warm and felt like home. Climbing up the ladder to the bed had a luxury tree house feel, but in the middle of the night made going to the bathroom a slight challenge. There's also access to the outdoor jacuzzi from this room. The Bamboo Guest House was huge, had so much natural light, amazingly soft carpet, gorgeous wood and a private delightful Japanese soaking tub. Both rooms had a kitchen, private bathroom, plenty of space and dreamy flower arrangements. The breakfast in our room was a nice touch. Kathleen, Peter and Jenny were so hospitable and kind. They gave us great ideas of what to do and eat, complete with maps and notes. There is plenty to do in the area even though there is no lava on the island and the government is currently partially shutdown. We spent about a 1/2 day in Volcano National Park, went to the black sand beach (saw hono), went to the green sand beach, saw sunset at Mauna Kea and spent time in Volcano Village and Hilo. Seeing all of these sights wouldn't have been possible if we were staying in Kona. We were so happy to make our "home base" for this side of the island the very charming Volcano Rainforest Retreat!
---
Jan 16, 2019 Reviewed by Wanderingnomad81
Pure bliss!
Stayed in the bamboo guest house. One of the most beautiful and peaceful properties I have ever stayed in, a full nature immersion. Kathleen and Peter have created heaven on earth with their retreat. The attention to detail is astounding – great furnishings, accessories, well-stocked kitchen with breakfast items and delicious local fruits. The outside bath is stunning. I extended my stay by one night and would have stayed even longer if I could. Thank you Kathleen and Peter for gifting the world this wonderful property and inviting us into your rainforest home!
---
Jan 5, 2019 Reviewed by Ben V
Unbelievably great stay at this boutique property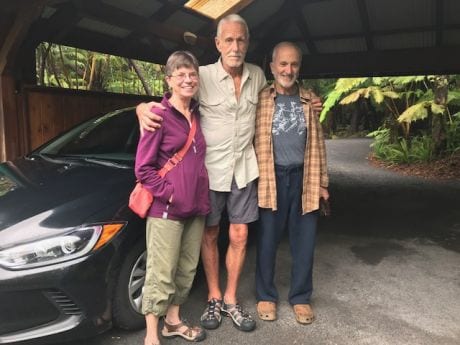 Met Peter the day we checked in Volcano and he showed us around the property he has been working on for 30 years. The location in Volcano is incredible and the grounds are manicured, full of beautiful plants and animals (and wild chickens!) Our small cabin had glass walls on all sides with a beautiful outdoor shower and Japanese style hot tub. We were gobsmacked by how nice the location was. A true hidden gem. Highly recommend!
---
Dec 27, 2018 Reviewed by SammyJ826
An amazing retreat
From the moment we pulled up, VRR exuded hospitality. Peter met us immediately and showed us to our cabin. He spent a great deal of time showing us around the cabin, and talking with us about the area (Big Island in general, not just Volcanoes).
The cabin itself is immaculate. Peter and his staff pay an incredible amount of attention to every little detail. It was one of the most impressive stays I've ever had. We stayed in the Bamboo House, which, again, is truly amazing. It's really well appointed, everything you could ever need, and has lots of great art from local artists (you can find much of their work in town).The house itself had a full kitchen, spacious bath, living area, bedroom and closet. Honestly, it felt like renting a 1 bedroom house, instead of just a simple cabin. There is also a private Japanese style soaking tub in the back, for exclusive use if you're staying in Bamboo.
There were lots of other little things too, Peter and his staff listen for when you leave so they can come in and tidy up. Honestly, it's the level of service you'd expect from a 5 star, fancy hotel. Breakfast was great — fresh fruit, breads, eggs provided the night before. We loved being able to get up, prepare a quick breakfast together, and get a start to the day, rather than waiting for breakfast to be served. We loved the simplicity, enjoying Papayas using Peter's recipe. It's a really great way to start the day.
The property is well located near Volcano Village, and VNP. Lots to do, even if the park has foggy weather (spend as much time on Chain of Craters road as you can, trust me). Also close to Hilo, and right off of 11, which is the major road around the Island, so easy to get to. It was about a 2 hour drive to the Kona coffee plantations, 45 min drive to the Black Sand beach, and 45 minutes to various other Hilo side beaches. About 3 min from the Volcano Village, with some nice restaurants and shops, and about 7 minutes to the park. We were actually really glad to stay away from the crazy tourist traps of Kona, and the city atmosphere of Hilo. This place truly felt like a retreat.