Trip Advisor Reviews for September 2018
Our guests are enjoying their stays and adventures here in Volcano and on the Hilo side of the island. Please see our recent Trip Advisor guest reviews from travelers who have been with us at the Volcano Rainforest Retreat during the month of September. We are grateful for their reviews and adventurous spirits!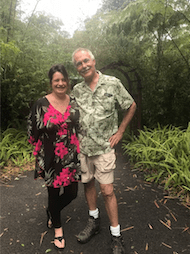 September 26, 2018, Reviewed by Bill Jr 
Intriguing beautiful place to stay
On our visit to the Big Island of Hawaii in mid-Sept, 2018, my wife and I stayed in Volcano Village at the Volcano Rainforest Retreat's Sanctuary cottage for three nights.  The cottage was clean and the Japanese styling and workmanship was most impressive. We were happy it had a comfortable western bed, however. We had a pleasant experience sleeping surrounded by windows looking out at dense rainforest vegetation, which made the cottage very private.  You could even call it "glamping," that is glamour camping and far from roughing it. Even the covered outside shower and Japanese style hot tub was secluded, and provided heavy robes and towels kept us warm for the few steps from cottage to shower/tub and back. Evenings were cool so the small artificial wood burning stove made the room cozy.  Breakfast foods that we requested were placed in our room the day before, and included fresh fruit, granola, hard boiled eggs, tea and Kona coffee, with a focus on healthy and organic. Cups, dishes, utensils, coffee maker and toaster were provided; no table, but two chairs were on the small front porch. The size of the Sanctuary cottage reminded us of a typical room on a cruise ship, so you do need to get organized, but too many pillows and nice knickknacks on potentially available spaces made that a challenge. (Other cottages are larger.) Popping in for only one night would not likely give you the experience you seek. We rate the Volcano Village Retreat, the staff, and the Sanctuary cottage very highly.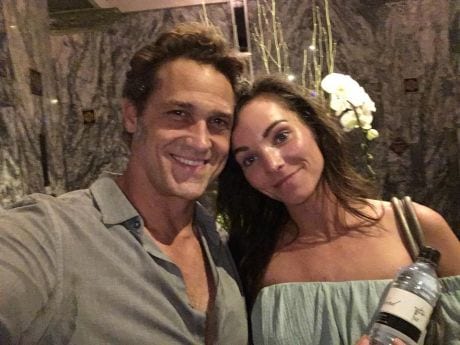 September 20, 2018, Reviewed by Michael Shapiro
Recommends Volcano Rainforest Retreat
 Words can't describe….GO!!
 September 23, 2018, Reviewed by John Farber
Volcano Rainforest Retreat
This bed and breakfast will make you feel right at home! The room was comfortable and private while making you feel like you're in the rainforest itself. The owners are very friendly and the entire place has all the romance of an isolated cabin with all the amenities you need. If we come back to Volcano, this is where we will stay.
September 18, 2018, Reviewed by Sarah T
Unique Experience in the Rainforest
This was a perfect part of our honeymoon trip to the big island. Tucked into the rainforest felt so unique and special. It felt very spiritual, calming and the attention to detail was incredible.
We stayed in the forest house cottage. Cozy, private, beautiful. Had a fireplace, robes, skylight, mini fridge, toaster oven. We had access to the outdoor hot tub and there were nice robes provided. A delicious Breakfast basket was brought daily. Allowing you to choose items for the next day. Even provided "peters papaya recipe" which was delicious! They also dry your shower towels daily since it's pretty humid and can be hard to air dry.
We came mid September 2018 and while the volcano eruptions and hurricanes were happening prior we received updates on the property and island conditions which was very helpful and reassuring.
The volcano national park was closed while we were there due to conditions after the eruptions but volcano retreat is located right near the park entrance. Can still get a park stamp from
Volcano art gallery/center.
Location is close to a few restaurants. Ohelo cafe was very good! Pasta portion was massive so recommend sharing and trying different appetizers too. And Thai restaurant was good too.
Highly recommend for a few nights if visiting the big island!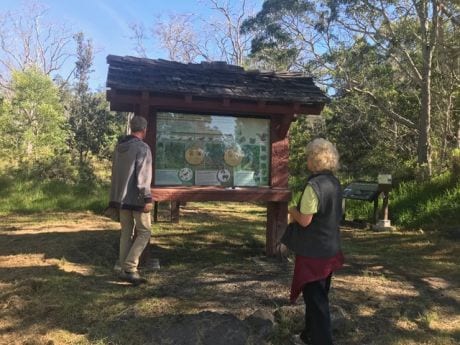 September 13, 2018, Reviewed by Marlene Debienne, France
"The Hawaii we dream of"
My husband and I spent a few days in this beautiful cottage on our honeymoon. The owner welcomed us very warmly and with great kindness. He was able to provide us with valuable advice on activities and restaurants around. The breakfast was very good and very plentiful, with fresh fruit from the garden …. The chalet is located in the middle of the rainforest, it conquered us by its authenticity, its calm and its very cozy appearance. The address is to remember absolutely if you go to the side of Volcano! An unforgettable and authentic memory of Hawaii guaranteed.